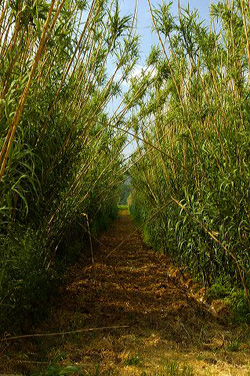 La canne de Provence,
l'amour du Var...
The Cane of Provence,
jewel of the Var region
Souvent appelée à tort "roseau", la Canne de Provence, constitue un des éléments prédominant et caractéristique des paysages méditerranéens...
Commonly referred to as "reeds", Provencal cane is a ubiquitous part of the beautiful Mediterranean landscape.
Le Var et le bassin hyérois "au cœur de l'anche"
The Var region and hyères basin "The heart of the reed"
C'est à la dimension artistique que s'est attaché le Festival de l'Anche depuis sa création, en constatant que tous les fabricants d'anches du monde sont installés dans le Var et principalement dans la région hyéroise, il a paru naturel de considérer le "bassin Hyérois", le Var et la Provence comme la "Capitale Mondiale de l'Anche".
Suivant les traces de Michel Pellegrino, qui a consacré deux ouvrages livres-CD ("La Plume de Roseau" et "L'Ile d'Or") à la canne de Provence, il était intéressant d'envisager la création d'un "Festival International de l'Anche" sur Hyères, festival aux multiples extensions culturelles, étant donné le caractère "multiforme" de la Canne de Provence.
En effet, tous les instruments à vent et à anche intègrent un éclat de cette canne poussée sur nos rivages, "un bout de Var et de Provence", (même les instruments les plus inattendus : biniou breton, cornemuse écossaise, instruments anciens tels que bombarde, chalumeau, etc...). Ce qui permet d'envisager une programmation large et diversifiée. D'autant plus que l'aspect méditerranéen peut envisager de surcroît les échanges avec tous les pays ayant utilisé ce végétal pour la fabrication de leurs instruments traditionnels, extrêmement nombreux. L'intérêt de ces rencontres musicales est évident, démontrant largement l'universalité de la Canne de Provence.
Complétant les prestations artistiques du Festival, représentées par les concerts des musiciens de renommée internationale qui se déroulent à l'Auditorium du Casino et dans les plantations (Jazz dans les Canniers), le Salon de la Canne de Provence se tient au Forum du Casino. Il présente une série d'animations exposant tous les aspects de la canne : conférences, expositions (calligraphie, peinture, photo, dessin à la "plume de Roseau", objets usuels de la vie quotidienne provençale), ateliers de calligraphie et d'écriture, ateliers de fabrication d'instruments de musique en roseau, présentation du travail de la canne et de toutes ses utilisations (agriculture, architecture, vannerie, anches, instruments de musique traditionnels et modernes).
De plus, le Salon offre de nombreux concerts gratuits durant les deux jours d'exposition : musiciens amateurs et professionnels se succèdent, et une scène ouverte accueille les ensembles de jeunes de la région, les harmonies et les écoles de musique. Le concours de "l'Anche d'Or" couronne pour sa part la meilleure mise en valeur musicale de l'anche.

The Reed Festival's mission since its inception has been to provide a forum for artistic expression. It was only naturally to host the event in the Hyères region of the Var district, home to the world's most important musical reed makers and the undisputed "Reed Capital of the world".
Inspired by local musician and composer Michel Pelligrino's two works on Provence and its famous cane (La Plume de Roseau and L'Ile d'Or), the festival set out to offer an international and multi-faceted cultural event representative of the region's great diversity.
Reed instruments from all over the world such as the clarinet, bombarde, chalumeau, and the Scottish bagpipe are united by Provencal cane and demonstrate its multi-national influence over centuries of musical and cultural development. The Mediterranean crossroads have bread diversity and enabled the festival to organize unique events and activities to demonstrate to the public the music, exchange of ideas, and universal nature of cane.
The festival hosts some of the world's top name musical performers in concert at the Hyères Casino Concert Hall and at the local cane plantations as part of the "Jazz in the Cane Fields" series. Spend time exploring the many uses of cane at the Festival's exhibits at the Casino Forum. Exhibits feature demonstrations and workshops on calligraphy, paintings, photography, artwork, and drawings made from cane chips and other elements of everyday Provencal life. Also featured are workshops on instrument making using local cane, a presentation on cane agriculture, cane weaving, reeds, and modern and traditional musical instruments.
Be sure to attend some of the Festival's free concerts performed by local and regional professional and student musicians and bands. The festival also hosts the "Golden Reed" music competition awarding prizes to the best reed performers.